The Best Door Designs for Your Balcony
A balcony is an integral part of your home. It is your window to nature. It serves an important function of connecting your home to the outdoors. The balcony is your place to relax and unwind with a book or a drink, it can also double up as a garden where you can breathe in the fresh air. It adds beauty to every home and can be designed to feel as warm and inviting as the rest of your home.
A good balcony door is important for not only making the place more aesthetically appealing but also for ventilation. The choice of the door design depends on your needs, style, usage, preference, and interior design. In most cases, choosing a balcony door is a one-time activity and hence it is important to make the right choice the first time. If not chosen carefully, you might end up with the wrong kind of door. It should be functional, beautiful to look at, and also easy to maintain.
But don't worry, it's not a complicated activity. To make things easier for you, here we share a few tips that would help you choose the ideal design for your balcony door.
Space
Image – Pixabay
Knowing the exact measurement of the balcony, both on the interior and exterior sides would help you in deciding the best suited operating style of the door. Whether the door would swing inwards, outwards or a sliding door depends on the amount of space available.
The direction of the door opening would affect the usage and utility of the balcony.
Size of the Door
Image – Rov Camato/ Pexels
Once you have decided on the style, the next aspect you would need to consider would be the dimensions of the door. The size of the door should be in proportion to the dimensions of the living room or bedroom. Also, you should take into consideration the traffic volume that would be flowing through the door.
There is no standard door size that works for all balconies. Ideally, the door size should be customized as per your requirement, type of house, and available space to achieve the best fit.
Material of the frame and door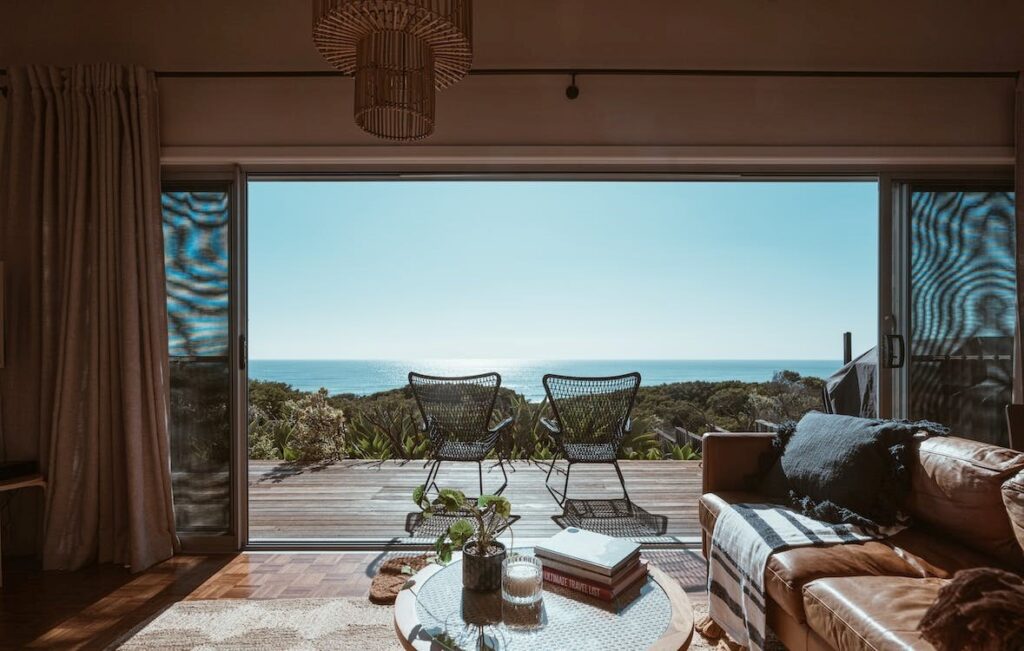 Image – Ben Mack/ Pexels
The choice of the material depends on a lot of factors, e.g., weather, light, ventilation, noise level, etc.
The balcony door frame should be sturdy, stable, durable, and all-weatherproof.
You should consider the weather of the place before finalising the material. E.g., if the area you live in has high levels of humidity, then a wooden frame would be inappropriate as it would absorb a lot of moisture and inflate over time. For areas with extreme weathers, you should look for materials that provide good thermal insulation.
Glass doors increase illuminated ambience by ensuring a free flow of light, but they curtail privacy. Frozen or textured glass doors can help you in maintaining brightness as well as privacy.
Wood, aluminium, and vinyl are a few of the most commonly used materials for the frame. While tempered glass, laminated glass, aluminium glass doors, fiberglass, etc are the preferred choices in designing balcony doors.
Every material has its own pros and cons and the choice of the material ultimately depends on a lot of factors like usage, weather, budget, maintenance ability, etc.
Style
Image – Maria Orlova/ Pexels
Balcony doors can be stylish or plain depending on your taste. Your door design can be eye-catching or subtle. You may also wish to match the style of the interiors so that the balcony door complements your home and seamlessly integrates with the rest of the house. The door style can be modern, boho, chic, or rustic depending on the rest of the home design.
They are available in various types, like French doors, sliding glass doors with a metal or wooden frame, openable glass doors, shutter or folding shutter style, etc.
The style of the door also depends on the size of the balcony. If you have a small balcony and moving space is a constraint, a sliding door would be a good choice. A window plus door combo also works well on a small-sized balcony.
On the other hand, if you have a big size balcony, a courtyard-style bi-fold door would be perfect.
Privacy and Security
Image – Max Vakhtbovych/ Pexels
Most of the balcony doors, sliding or otherwise, are made of glass and thus are a concern for privacy and safety. The clear view, though beautifies your home, it also opens it to many dangers like burglary, theft, etc.
Tempered glass, or glass doors with sliding door lock systems or hooks to seal the doors increase the safety aspects.
Unplasticised polyvinyl chloride or uPVC doors are gaining popularity these days as they are robust, weather resistant, durable, flexible and offer a high level of security. They can be adapted to install multi-point locking systems and increase the safety index of your home.
Maintenance
Image – Bruce Clark/ Pexels
Ideally, balcony doors should be low on maintenance costs and efforts. PVC, aluminium door frames are low cost, easy to maintain, and last for about 10-15 years.
Wooden doors are more expensive than PVC or aluminium doors and need regular maintenance to protect them from rotting, peeling, insects, and termites. But they also last longer, for about 50-100 years.
Vinyl doors cannot be repaired, even if it is minor damage. They have to be replaced.
Regular maintenance like cleaning, wiping, removing dust from the sliders, polishing and oiling would help in increasing the door's lifespan.
It is important to protect wooden doors from moisture and humidity to increase their durability.
The balcony door is an important feature of your home and by paying a little attention to the design you can give it the kind of attention it deserves.
We hope you found this article helpful and if you are looking for more tips, ideas, or solutions, we are always here for you!