Living Room Partition–Is it just a partition or much more?
One of the latest interior design trends is the concept of Open floor plans. They make the home feel more spacious and larger by making use of open spaces. But the greatest drawback of an open floor plan is the loss of privacy.
This drawback can be easily negated by adding room dividers or partitions.
Architects and interior designers recommend using a room divider to set up rooms within a room, divide a room into separate areas or even create separate distinct areas within the large open space. Room dividers help enhance privacy and give a definite definition to the space.
Partial walls, fabric dividers, or open shelves are a few ways in which you can create a partition in the living room.
But if anyone says dividers are just for creating a partition in the living room, they are so mistaken!
Dividers can be multi-functional and serve a lot of purposes, depending on your need and taste.
Here we list a few other ways in which you can use a living room partition.
Enhance the aesthetic appeal
Image – Max Vakhtbovych/ Pexels
Room dividers or partitions enhance the aesthetic appeal of the room. While a brick wall serves the same purpose as a partition, it reduces the moving space, light, and ventilation. With a curtain, wood separators, partial walls, glass partitions, or open shelves, you can experience greater ventilation and brightness.
Translucent glass partitions that double up as an interior window add to both appeal and utility.
Screens with intricate carvings not only lend a quaint charm and personality to the room, but they also help in channelling light.
If you are looking to add a modern or contemporary touch to the room, you can opt for metal or fiberglass dividers in bold colours and patterns.
Adding embellishments to the partitions is an easy way of adding a touch of extravagance.
Bring the outdoors "in"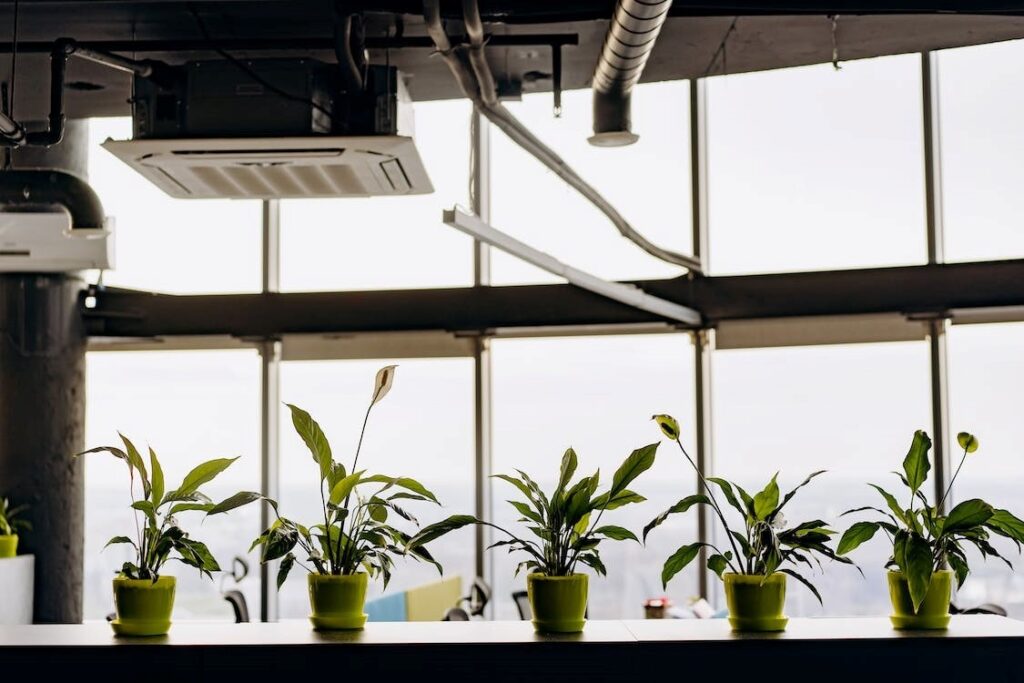 Image – Mikhail Nilov/ Pexels
Room dividers can be purposed to serve as vertical indoor gardens too. You can create a living green wall by growing indoor plants on the divider. Bamboo, jute, or wood partition works well to create an interior garden. It is best to opt for plants that are low on maintenance. Apart from beautifying your home, plants also provide immense health benefits like increasing oxygen supply, removing toxins from the air, etc.
If taking care of real plants is not your forte, you can go with faux plants to add a touch of green to the room.
Read more about the advantages of having indoor plants here.  
Increased storage
Image – Max Vakhtbovych/ Pexels
Shelves need not be just for storage; they can be multi-functional too. Open or closed shelves can be easily used as room dividers. Apart from zoning the open space, these shelves can be used for storing books or displaying décor pieces or other artifacts. Leaving a few vacant shelves ensures visibility and creates an illusion of depth.
If you require a divider between the living room and kitchen, you can set up a counter reaching up to waist height. It would serve the dual purpose of separating the different spaces and providing additional storage for storing plates, glass, cutlery, or other kitchenware.
Open shelves are a good choice if you wish to bridge a visual connection between the various zones of the room. Closed units work well where you need privacy and need to create free-standing independent zones.
Fluidity
Image – Pixabay
Where it is not possible to create a wood or glass partition, one can opt for curtains or blinds. It is easy to achieve privacy by adding a layer of drapes in the living room.
You can choose the material, colour, or pattern depending on the room layout and design.
While they help create a partition, they require little maintenance, are fluid, and do not increase the volume. These are relatively inexpensive and easy to install and you can always change them as and when you wish to.
Textural magic
Image – Max Vakhtbovych/ Pexels
Incorporating a variety of textures is a sure-shot way of enlivening your living room. You can play with textures and tones by using room dividers while creating partitions at the same time.
Partitions in metal, wood, brick, glass, or fabric can smartly add varied textures to the living room. Using a combination of steel beams and glass panes as a divider is both trendy and practical.
Dividers in textures contrasting the major pieces of furniture aid in creating a lively and interesting room.
Versatility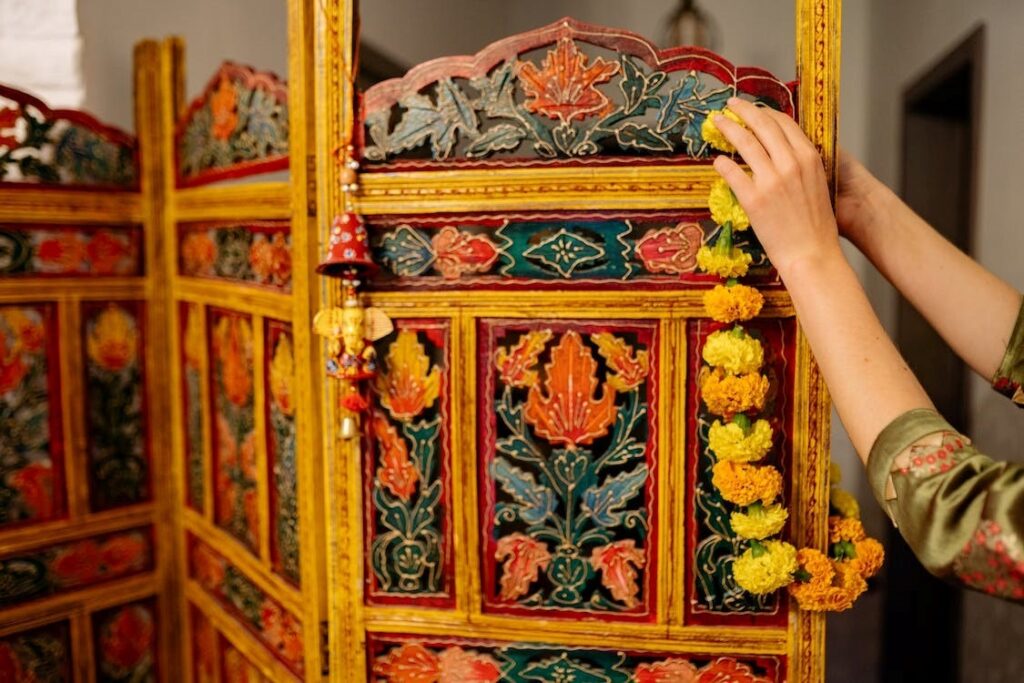 Image – Yan Krukov/ Pexels
Apart from creating separate zones, partitions can serve other purposes too. e.g., using folding doors in the living room as a partition helps you in creating a soundproof room. If you have floor-to-ceiling sliding glass doors between the living room and kitchen, these can be shut close to prevent kitchen smokes and smells from escaping into the living area. 
With a little creativity and careful planning, you can achieve much more with partitions. If you are looking for any ideas to remodel the large open space in your living room, feel free to talk to us. Our team of designers would love to work with you on your dream home.