A laundry room is one of the most functional and utilized corners of every home. An ideal laundry room should be well-ventilated, have plenty of natural light, and have adequate space for sorting and folding clothes. It should also have sufficient storage space for storing laundry equipment, cleaning products, and supplies. Built-in ironing boards, storage cupboards, and counter space for laundry care, sewing, etc can help you utilize the space to the maximum.
In some homes, the laundry room also doubles up as a storage room, craft room, and sometimes even a room to take care of pets.
Every laundry room should take care of five basic functions – sorting, washing, drying, folding, and ironing.
In this article, we list down a few specifications that would help you in planning an efficient laundry room.
Specification for installing washers and dryers
Image – pkamiini/ Pixabay
Washing machines and dryers come in various sizes. Irrespective of the size, they all need free additional space around them.
If you are planning to place the washer and dryer next to each other, then you would need a horizontal space of five feet. Most of the appliances have a depth of around 33 inches, and hosing, venting, and air circulation require another six inches. And you would need to leave about one inch on the sides of the appliances and between them to take care of the noise caused by vibrations.
If space is a constraint, you can stack the washer and dryer. In this case, you would require a vertical clearance of 60-75 inches and a horizontal clearance of 24-30 inches. Apart from this, ensure there is a clearance of around 6 inches for the hosing, venting, and circulation.
The laundry room door should be a minimum of 32 inches wide to accommodate the moving of the laundry appliances.
Movement and Work Space
Image – constantiawork/ Pixabay
A laundry room is invariable a multi-purpose room, and insufficient space can make working in this room frustrating. A cramped laundry room would make it more difficult for you to take care of the laundry activities. You would need sufficient floor space and worktop space to utilize this room in the most efficient manner.
Overcrowding the laundry room would cramp up the space. Ensure you have sufficient moving space to avoid bumping into appliances, as otherwise, it would prove to be hazardous.
Free counter space of about 18 to 36 inches on one side of the washer is sufficient to take care of pre-washing treatments. In the case of a front-loading washing machine, you would need 48 inches of clearance to walk around freely to open the door and take out the wet laundry.
Construction Specifications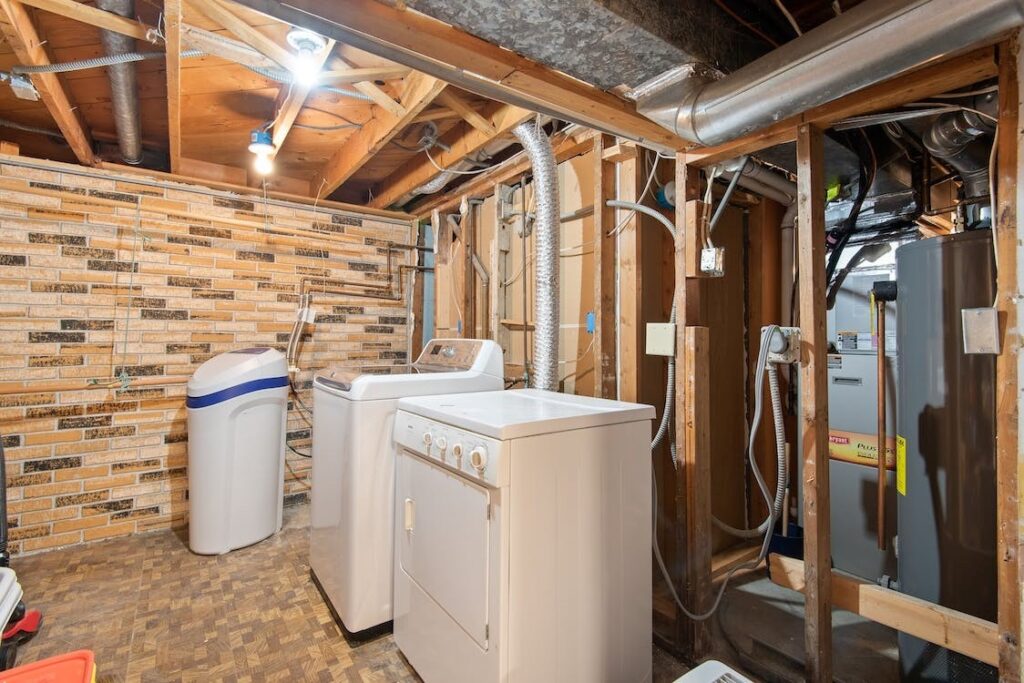 Image – Đỗ Huy Hoàng/ Pexels
Since the laundry room is primarily a wet area, it is important to take steps to prepare for hose breaks, water overflow, etc. A floor drain, automatic shutoff water valve, and shorter venting are a few of the options available to keep the rest of the house safe in case of an accident.
It is vital to use the right kind of wires for electrical connections and ensure there are no loose connections as contact with water can lead to accidents.
A sink in the laundry room is an added advantage. If possible, place it next to the washer as you would be able to take care of stains easily.
Storage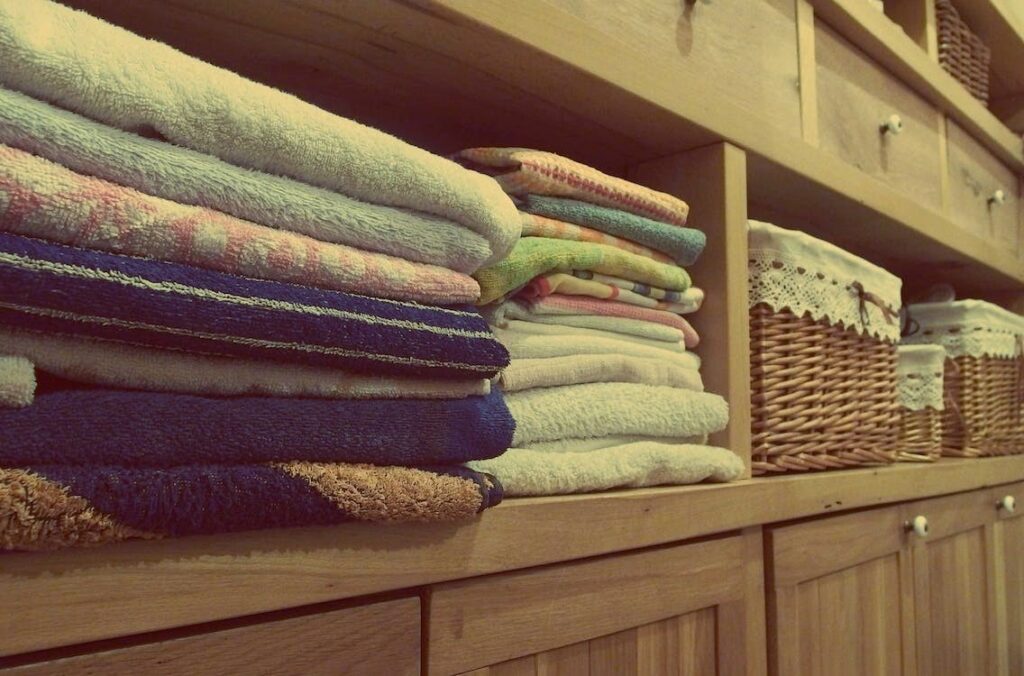 Image – Pixabay
One doesn't need a huge laundry space for it to be functional. A well-organized laundry is all one needs.
Installing storage cabinets near or above the washer helps one store cleaning products in a safe and utilitarian manner. This is especially important in homes with children or pets.
If you require additional storage, you can install wall baskets, overhead cabinets, base cabinets, or free-standing cabinets. Ledges or shelves over the door or behind the appliances are another cost-effective way of increasing storage. Compartmentalized hampers – one for dirty linen and one for clean clothes can help in making the laundry room more efficient.
Storage cabinets with a countertop height of 30-34 inches are quite comfortable to work with when it comes to folding and sorting laundry.
A free-standing or wall-mounted drying rack installed in the laundry room is quite helpful, especially on rainy days when you can't put out your laundry in the sun.
Sorting and Discarding
Image – wojciechowskaek5/ Pixabay
It is important to keep the laundry area clean and clear at all times. There would always be little items that would make your laundry room cluttered, e.g., lint, pocket trash, etc.
Keep an eye out for the items that can accumulate and make the laundry room cluttered. Broken hangers, used colour catcher sheets, buttons, expired laundry products, empty detergent containers, etc.
Placing a trash can in the laundry room would help you get rid of these small items and place the garbage in one place instead of cluttering up the entire room. Ensure to empty the trash can frequently or else it would cause a foul smell and encourage the growth of moulds.
Light and Ventilation
Image – Lisaphotos195/ Pixabay
The laundry room should be airy and well-lit. Windows are the best source of natural light and fresh air. Apart from the natural lighting, you should also have sufficient overhead lighting that is bright and functional.
Installing lighting under the countertops is fairly inexpensive and easy. They add charm and functionality to the room.
Exhaust fans can be installed to increase air circulation and remove dampness.
Beautification
Image – constantiawork/ Pixabay
A laundry room need not be just functional and boring. With a bit of creativity, you can make the space lively and charming.
Artificial or natural plants, wall décor, decorative containers, curtains, smart hanging lights, etc can help you beautify the laundry room. You can also place family pictures, aromatherapy elements, or laundry room-themed items to make the room more aesthetically appealing.
Let us know in the comments if you found this article helpful.