Outdoor Seating Ideas
A comfy outdoor space is a haven for rejuvenation. A balcony, patio, or lawn, irrespective of size, helps one unwind and relax. Be it summer or spring, winter, or monsoon, spending even a few moments of your day outdoors is a soul-soothing experience.
Creating an outdoor seating area is not complex and can be achieved easily. It is possible to even decorate on a tight budget if you plan carefully.
Any outdoor area can be converted into a beautiful space with good lighting, comfortable seating, multi-functional furniture, and curtains. Outdoor furniture can be upholstered or unupholstered depending on your preference.
Many of our customers struggle with choosing the right kind of outdoor furniture. If you're looking for ideas to refurbish your outdoor seating area, then you have come to the right place!
This article will help you in selecting outdoor furniture –
Material matters
Image – Dalila Dalprat/ Pexels
Outdoor furniture should be made of materials that are not only appealing but can also withstand the rigours of outdoor use. They should be all-weather friendly. Materials prone to alteration under weather changes are a strict no.
Rattan, cedar, teak, jute, aluminium, metal, and wicker are common materials for outdoor furniture.
Outdoor furniture should also be easy to move. It should always provide you with the flexibility of moving and placing it in a different location in case you are entertaining more people.
UV and mildew-resistant fabric are essential in case you are planning to choose upholstered furniture. Materials requiring low maintenance are always preferred.
It is prudent to focus on quality. Furniture made of high-quality material might be slightly expensive, but it is long-lasting and ultimately good value for money.
Get the proportions right
Image – Evgenia Basyrova/ Pexels
The size and kind of furniture depend a lot on the available space. Considering the number of people using the area and the purpose would guide you in selecting outdoor furniture.
If space is a constraint, contemporary furniture in a neat style would be a better fit as compared to large L-shaped sofas. You can make the space welcoming by even placing armchairs with a centre table or two side tables.
There should be enough moving space between the pieces for ease of movement, safety, and leg space.
Comfort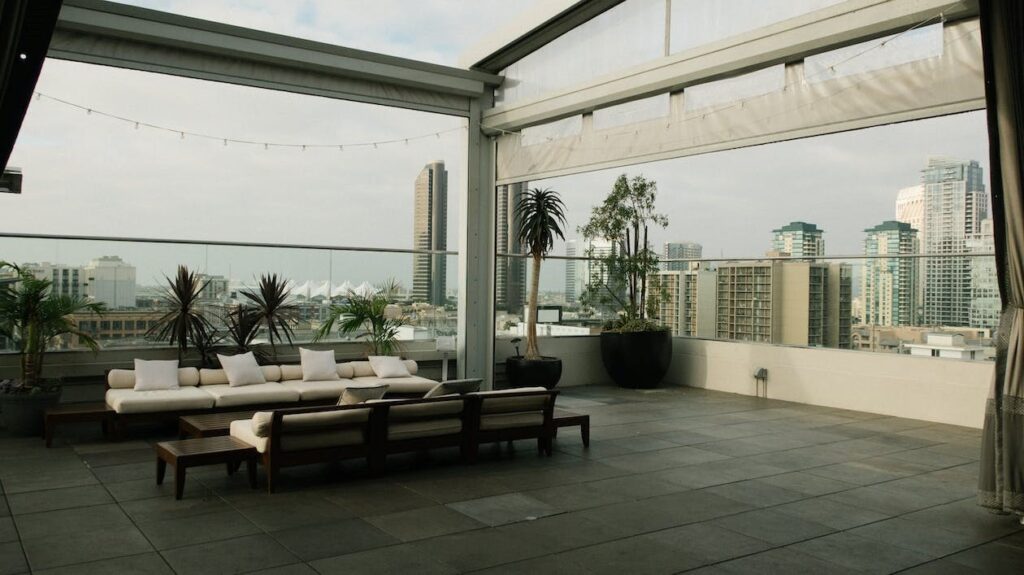 Image – Athena/ Pexels
Paper lanterns or thread lanterns are a simple and beautiful way of illuminating your home during Diwali. Available in both traditional and modern designs, these lanterns create a kaleidoscopic effect on the walls.
If you have more time at hand and wish to decorate your home with unique items, you can make your own lanterns. This would be a good activity for engaging children in the preparations.
These lanterns can be hung on the balcony, the entrance of your home, living room, foyer, or any corner that needs to be lit up. String lights or LED bulbs with a warm glow can be placed inside the lanterns for creating an uplifting feel.
Multi-Purpose Patio Furniture
Image – Pixabay
Investing in multi-purpose outdoor furniture is always a better option as it is economical and leaves you with more open space.
A few Outdoor Seating Designs
There is no one style or idea that would suit all. Furniture should be functional and aesthetic. Here we share a few design ideas that would help you in making the best of your outdoor space.
Comfortable rattan chairs with a sturdy oak table complete the modern look with a touch of minimalism.
Set on the lawns, these would surely help you unwind in the tranquil space.
Image credit – Skylar Kang/ Pexels
A couch like this would be amazing to come to after a long day at work. Paired with cushions in contrasting colours, they create a resplendent look.
This kind of design would fit well in a large or open space. Adding that bit of greenery all around makes the space warmer and more welcoming.
Image – Sabel Blanco/ Pexels
If your outdoor space provides a view of nature, it would be best to design it in a complimentary style.
We absolutely love this simple yet amazing design for a balcony. It is sleek with well-polished edges. The size of the table and chairs are in proportion with the available space. And the beach umbrella is the perfect accessory for completing the look!
Image – Lachlan Ross/ Pexels
This rustic décor is quite chic and would work well in smaller outdoor areas. Who wouldn't want to relax on these comfortably angled chairs, and lean against those cushions? The decorative wall art blends in nicely with the overall theme.
They fit well in the space and do not make it appear clunky.
Image credit – Max Vakhtbovych/ Pexels
This minimalistic design requires little, and yet, is sure to impress all. If you have a balcony with a wood roof or wooden railings, you can pair it with wooden furniture for a homogeneous look and feel.
Whether you wish to make the outdoor space a reading corner, a place for relaxing, a dining area, or an entertainment space, the right furniture would make all the difference.
If you wish to redecorate your patio, balcony, or backyard, feel free to get in touch with us!