Awesome Diwali Lighting Ideas for your Home
It is that time of the year when the festive spirit floats in the air. Diwali is right around the corner, and it is time to decorate your home with colourful rangoli, thoran, flowers, and of course, lights.
Diwali is a festival of lights, and your Diwali décor would be incomplete without gorgeous lighting.
Lighting plays an important role in alleviating the mood and setting the tone for your celebrations. Different varieties of lights can be used in both indoor and outdoor spaces to create a dazzling effect. Warm hues such as gold, yellow, or orange help in creating a welcoming atmosphere. It is best to avoid white hues for Diwali decoration.
Here are some interesting ideas to light up your home this festive season.
Go the traditional way
Image – Rahul Pandit / Pexels
You can never go wrong with Diyas or earthen lamps. They lend a traditional touch and warmth to your decoration. They can be placed at the entrance, puja room, doorstep, windowsill, or corridors.
Use tall floor-standing brass diyas for getting that traditional look.
The markets are flooded with clay diyas with the onset of Diwali. There is a wide variety of diyas available to choose from, right from plain diyas to coloured and even embellished ones.
Another way of making this festival more festive is by engaging the entire family, especially kids in the decoration. Instead of buying decorated diyas, you can get creative and make unique and eye-catching diyas. All you need is a little acrylic paint, mirrors, beads, a few brushes, and glue.
If you are looking for a modern option, electric or battery-operated diyas are the solution. They are hassle-free, safe to use, beautiful to look at, and available in various sizes and designs.
Floating diyas can be placed near the main entrance to add a dash of extravagance. Just add a few drops of colour, rose or marigold petals, or aroma oils to the water bowl, and you can create a breathtaking lighting arrangement.
Candles
Image – Arvind Aditya/ Pexels
Simple or decorative candles can be aesthetically placed to create a cozy atmosphere. They add warmth to the ambiance and are relatively cheaper. They can be used either as stand-alone lighting elements or as embellishments in a rangoli. Candle stands made of brass or terracotta add to the ethnic tone.
Candles can be best used in the bathroom, areas under sinks, or foyers.
You can either opt for white or coloured candles depending on the rest of the décor. Aroma-scented candles help in creating a soothing and relaxing environment.
Floating candles look stunning and can be placed near the main door, or in the living room. T-light candles can be placed in rangoli for a mesmerizing look.
Lanterns
Image – Vladimír Sládek/ Pexels
Paper lanterns or thread lanterns are a simple and beautiful way of illuminating your home during Diwali. Available in both traditional and modern designs, these lanterns create a kaleidoscopic effect on the walls.
If you have more time at hand and wish to decorate your home with unique items, you can make your own lanterns. This would be a good activity for engaging children in the preparations.
These lanterns can be hung on the balcony, the entrance of your home, living room, foyer, or any corner that needs to be lit up. String lights or LED bulbs with a warm glow can be placed inside the lanterns for creating an uplifting feel.
String Lights / Fairy Lights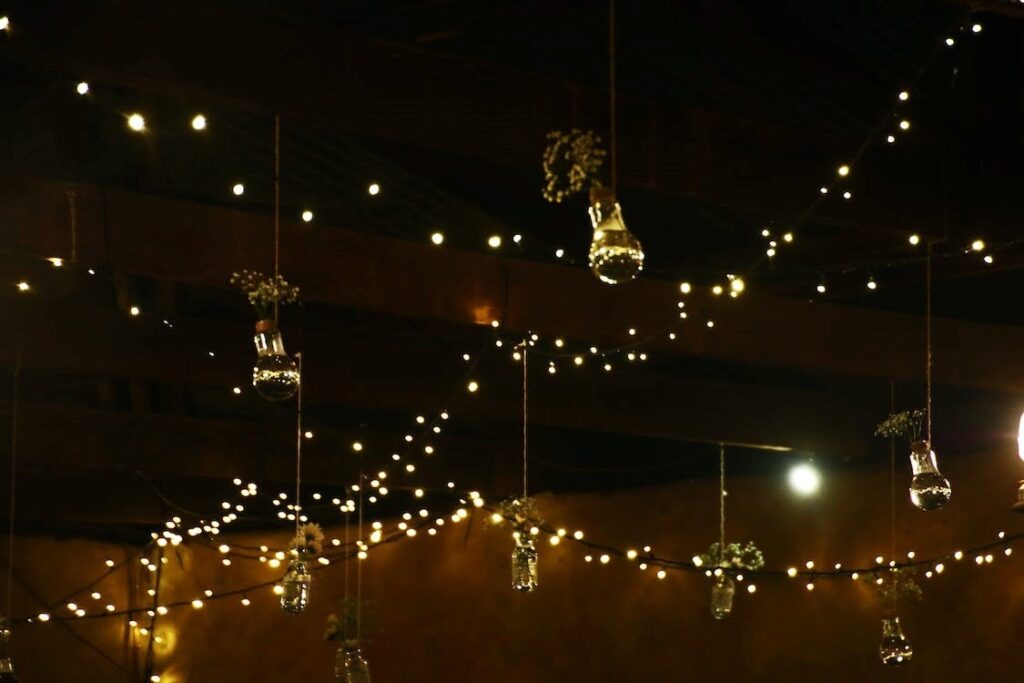 Image – Magda Ehlers / Pexels
String lights are every decorator's friend. You can give a rich feel to your patio, garden, outdoor seating area, balcony, or backyard by using them. Or layer the string lights over the roof or shed to create a warm and welcoming space. These fairy lights can also be draped around pillars, tables, chairs, or tree trunks for a magical atmosphere.
Apart from the outdoors, you can use the string lights indoors too.
String the lights on a wall, and voila, you will have a gorgeous and dreamy feature wall that can double up as a photo booth for clicking those unforgettable pictures.
Fairy lights and glass bottles or mason jars are a perfect pair for adding charm to your home. You can place these glass jars around your home for a soothing and comforting vibe. They can be even hung from the ceiling in areas with a low footfall.
Battery Operated Lights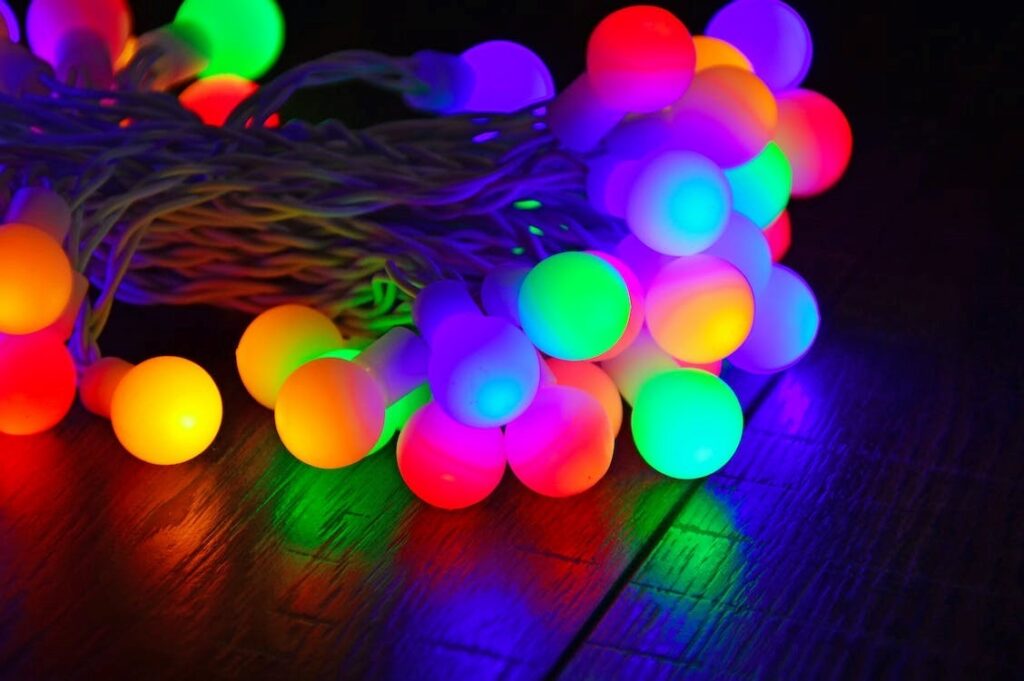 Image – Adonyi Gábor/ Pexels
Rope lights are one of the most popular and versatile lighting items. Since these are battery-operated, they are easy to set up and safe to use.
These lights are available in many shapes, sizes, colours, and lighting patterns. You can create a rustic, ethnic, or modern feel to your home by using these lights.
LED strip lights are another easy and safe-to-install option. These can be a part of your indoor or outdoor decorations.
They are brighter and more colorful than string lights. If you wish to create an urban or contemporary feel, LED strip lights would help you in helping you achieve the desired look.
Layered illumination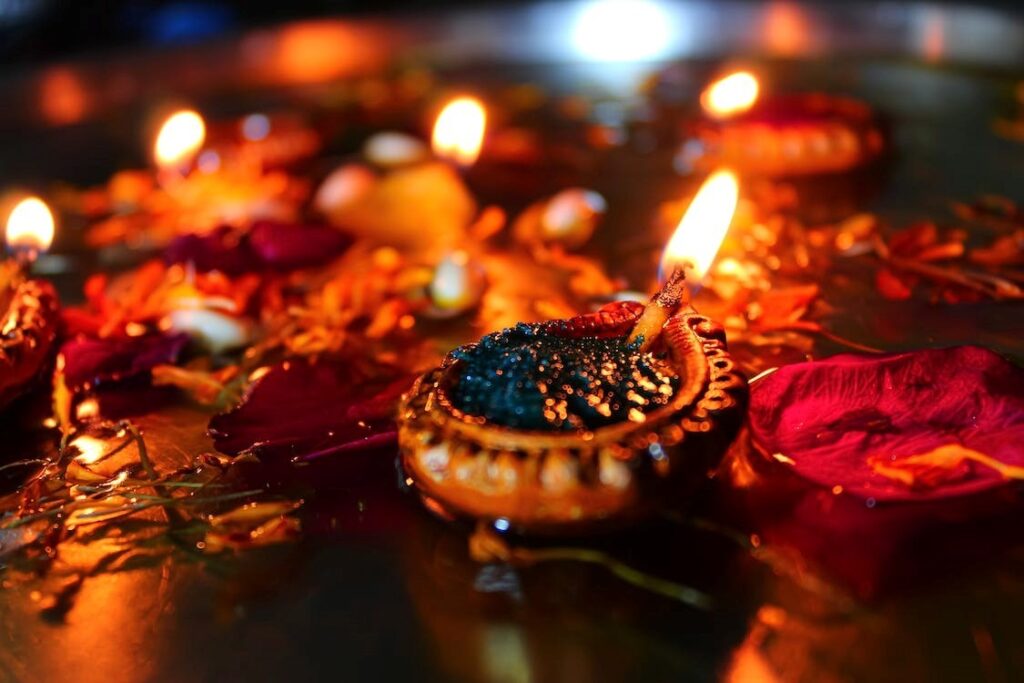 Image – Ravi Roshan / Pexels
Diwali is all about lights. But one must ensure not to create a jumbled look. A planned mix-and-match approach to the various lighting options is the key to amplifying the décor multi-folds.
Contrasting lights help create a warm and festive aura. Use diyas, candles, string lights, LED strips, chandeliers, and lanterns to create layered lighting.
Some areas can have warm light and soft accents while in places like the kitchen or dining area you can adopt brighter lights. Classy pendant lights work well indoors. Accent lighting can be used to highlight important features. Accent lighting and main lighting should complement each other.
We hope you find these tips useful and use them in decorating your home this Diwali. Let us know in the comments which idea you love the most!