Wall Highlight on a Budget
If you are fed up with your bare and lackluster walls, you are at the right place. We have the perfect solution to infuse life into those brick structures. Your home needs an accent wall.
An accent wall is the easiest way to embellish and highlight a room. It instantly transforms your living space and adds vibrancy to it. Creating a feature wall is easy and can be done even on a tight budget.
A few years ago, highlighting a wall meant painting it in a different colour. But not anymore! Today, there is no dearth of options when it comes to creating an accent wall. Textures, colours, finish, and materials… you name it, and it is available!
Here we share a few budget-friendly ideas to add attractive wall décor to your home
Abstract Pattern Wall
Image – Anni Roenkae/ Pexels
An abstract or geometric pattern is an eye-catching feature to highlight your wall. All you need is painter's tape, paint, and your creative self. By making use of bold colours and patterns, you can easily create budget-friendly, stylish, and desirable designs.
Paint on the wall after you have created a pattern on the wall using the tape. Once the paint dries up, pull off the tape, and witness the magical patterns appearing on the wall.
A Wall in Front of a Wall
Image – Tirachard Kumtanom/ Pexels
By using recycled wood, MDF, or bamboo frame, you can create a faux wall in front of your main wall. It is inexpensive, easy to install, and instantly highlights the wall.
You can even grow natural plants on it. In case the conditions are not conducive to growing natural plants, fake plants can be used to add a touch of green.
Paint
Image – tungnguyen0905/ Pixabay
Wall paint is the cheapest way of adding life to the walls. Depending on your preference, you can opt for a plain colour and accessorize with a large-sized mirror for that jaw-dropping finish.
It is important to choose a colour that works well with the other colours in your room. Metallic paints or plaster techniques are in trend these days.
Also, instead of painting it plain, you can even paint stripes, splashes, circles, or anything that you fancy. It's your canvas, after all!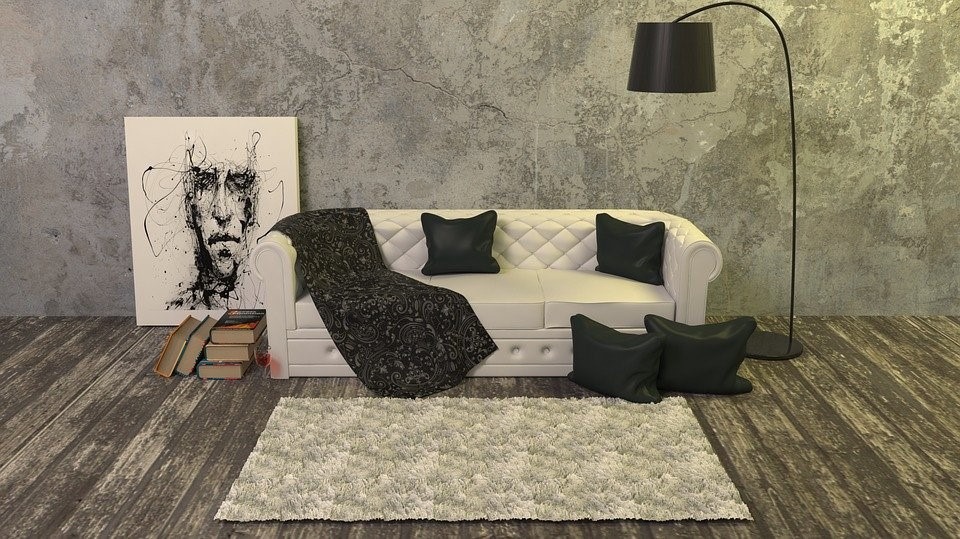 Image – Pexels
And in case you are looking to jazz things a further bit, we would recommend playing with textures and sheen.
Textured walls help break the monotony of bare monochrome walls, create an illusion of depth, and add variety.
Wallpaper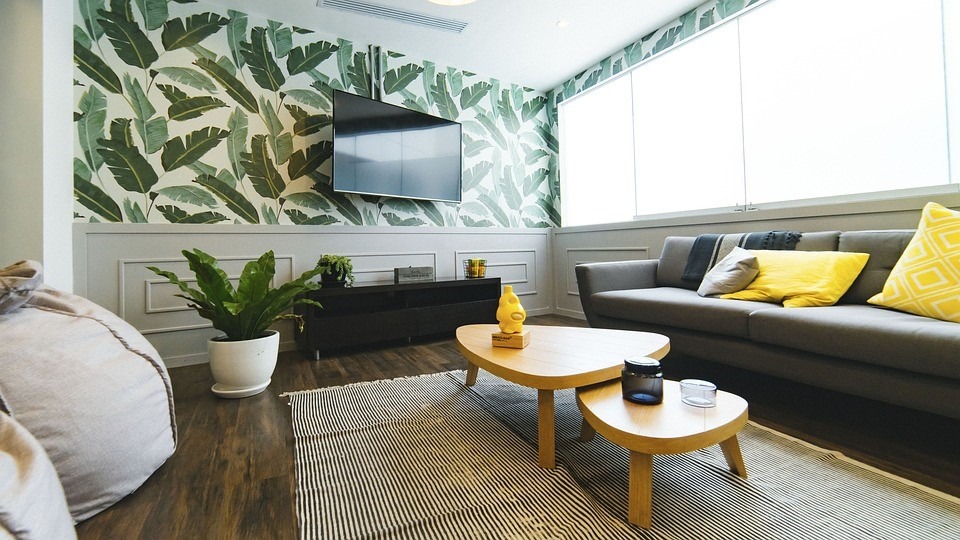 Image – StockSnap/ Pixabay
Available in varied patterns, wallpapers add an interesting element to the room. They are easy to maintain, can be customized, are long-lasting, and can instantly transform your living space.
And the best advantage of using wallpapers is flexibility. They are easily removable and in case you are bored with the pattern, you can peel them off and replace them with another appealing design.
Image – BUMIPUTRA/ Pixabay
Wallpapers are budget friendly and are a boon for those who are living in rented accommodation.
Oversized Artwork
Image – Max Vakhtbovych/ Pexels
Hanging a wall-sized painting or photograph is a creative way of drawing attention to the wall. While black and white photos work best for a minimalist effect, coloured photographs lift the mood and add vibrancy.
Wall Hanging
Macramé, beaded, or mirrored wall hangings add texture, colour, warmth, and personality to the walls.
You can either purchase them from the market or grab your thread supplies and create one unique to your home.
Panels
Image – tungnguyen0905/ Pixabay
Wood panels are a stunning way of highlighting a wall. You can fix wood panels on the wall and paint the surrounding area in a contrasting shade.
These can be used in the living room, bedroom, foyer, or even in the kitchen to create an appealing effect.
Wood panels are easy to fix, low on maintenance, and do not cost a bomb.
Play with mirrors
Image – Max Vakhtbovych/ Pexels
Mirrors and walls are the best combinations to increase the depth perception of a room and make it more appealing.
You can either work with a single large-size mirror or a set of mirrors. They are available in a variety of sizes, shapes, and designs.
Mirror panels are a budget-friendly alternative to mirrors. These thin sheets of reflective panelling can be glued to the walls easily.
Mix-n-match
Image credit – Max Vakhtbovych/ Pexels
A varied look always works. So, try playing with textures or tones to create a wall you can't help but stop admiring. Contrasting textures, like wood panels against a smooth painted wall, brick finish on a wall paired with leather furniture, or bright textured painting on a wall in a room that has a pale tone.
Floral designs paired with plain upholstery make for an interesting wall highlight.
Contrasting colours and textures work well and complement the overall setup.
Chalkboard Accent Finish
Image credit – Maria Orlova/ Pexels
A chalkboard finish helps you create a fun and unique accent wall. this kind of finish works best in a kids' room.
You can either use a chalkboard sheet or chalkboard paint to cover a wall. once you have covered the wall, you can decorate it with paintings, photo frames, and kids' artwork or let them scribble and create their own drawings.
It is cheaper than regular wallpaper and gives you the freedom to be as creative as you wish.
Wall décor makes your room look aesthetically appealing. With a little planning, you can inject personality and life into your walls and make them the highlight of your home.