Designing a kid's room is no child's play.
After a hectic day of studies and activities, children should be able to unwind, rest and rejuvenate in their room. Apart from a sleeping area, the bedroom is also a hub of free play and recreation. And lastly, the kid's room sometimes also doubles up as a place for studying.
The design should be such that it caters to all these needs.
Designing ideas have undergone a magnum shift. Gone are the days when a room in pink was for girls, and a blue bedroom was a boy's place. There are a lot of factors to be considered, right from space planning and segregation to colour and lighting. The end result should be such that the space is pleasant, cheerful and safe.
If you are feeling overwhelmed, fret not! Here, we list down a few tips which will help you design a functional and stylish room for children.
A kid's room needs to cater to various purposes, and while designing the room you need to integrate the various aspects in a cohesive manner. There are three main zones in the kids' room that can be demarked based on the activities – rest, recreation, and study.
Irrespective of the room size or the age of the child, zoning is an important step. It helps give a shape and form to the room, helps form the skeletal structure, and enhances the functionality of the room. A clear demarcation also helps in reducing clutter.
Furniture, lighting, and accessories depend on the zone in which they would be placed.
An underlying theme helps bring cohesiveness to the design. Discussing with the child would help the adults in working out a theme best suited to the child's liking. After all, they are the ones who would be spending most of their time in this room. The longevity of the theme remains the most important factor in finalizing the decision. The chosen theme should be such that it not only reflects the child's taste but is also going to last for a few years.
Finalizing a theme would help in taking important decisions around colour, accessories and furniture. The colour of the walls depends on the chosen theme. A Harry Potter-themed room wall would be different from a Frozen themed one.
While wall-papers are classy, they cannot be changed frequently and are difficult to maintain, especially in the case of younger children. Painted walls, on the other hand, are easier on maintenance and give a lot of scope for adding colours, patterns, murals or even shelves. The walls can be decorated with designs according to the chosen theme, lending a personalised touch to the room.
Painted walls are a raging trend for 2022. Neutral colours with a splash of bold for accentuation seem to be everyone's favourite.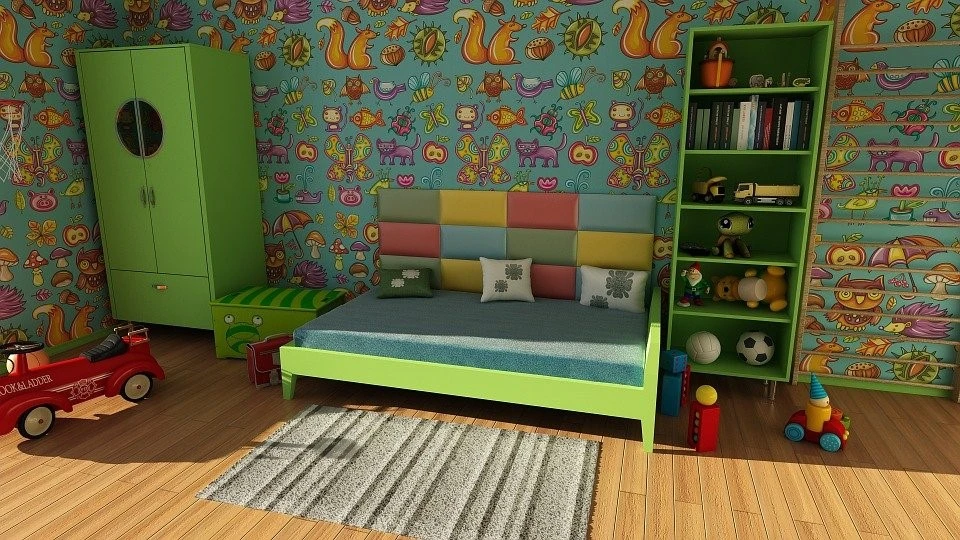 Apart from fitting in with the chosen theme, it is essential to prioritize the functionality, affordability, durability and adaptability of the furniture.
The furniture should be best suited to its purpose and also be adaptable to the child's growing and changing needs. It is not possible to keep buying and replacing furniture as the child grows. A classic wardrobe with many drawers and shelves would be sufficient to fulfil the child's growing needs.
Room size, age of the children, and the number of occupants should be considered when deciding on the furniture.
If space is a constraint, then it is not advised to put bulky furniture as it would make the room cramped. In the case of two children sharing the room, a bunk-bed, or a pull-out bed is a good option instead of two separate beds or a large-size bed. Multi-functional furniture is a boon for small-sized bedrooms.
Due consideration should be given to safety while selecting furniture. Sharp corners in furniture should be strictly avoided as they can cause injuries. Chairs, tables, stools etc should be stable and not topple over during usage.
The floor often doubles up as a seating and activity area for children. They like to spend a lot of time on the floor, as it is more relaxed and informal than sitting on chairs or sofas. You would often find children painting, drawing, or playing board games while sitting on the floor.
The flooring material should be easy to maintain, all-weather friend and free from harmful chemicals and additives.
Parquet is often used for flooring. Laminate, vinyl, linoleum are other popular choices.
Carpeting the floor is also a good idea if your child is not allergic to it. There are various designs, patterns, colours and materials available in the market.
The floor colouring can be aligned with the wall colour or contrasting, depending on the desired effect.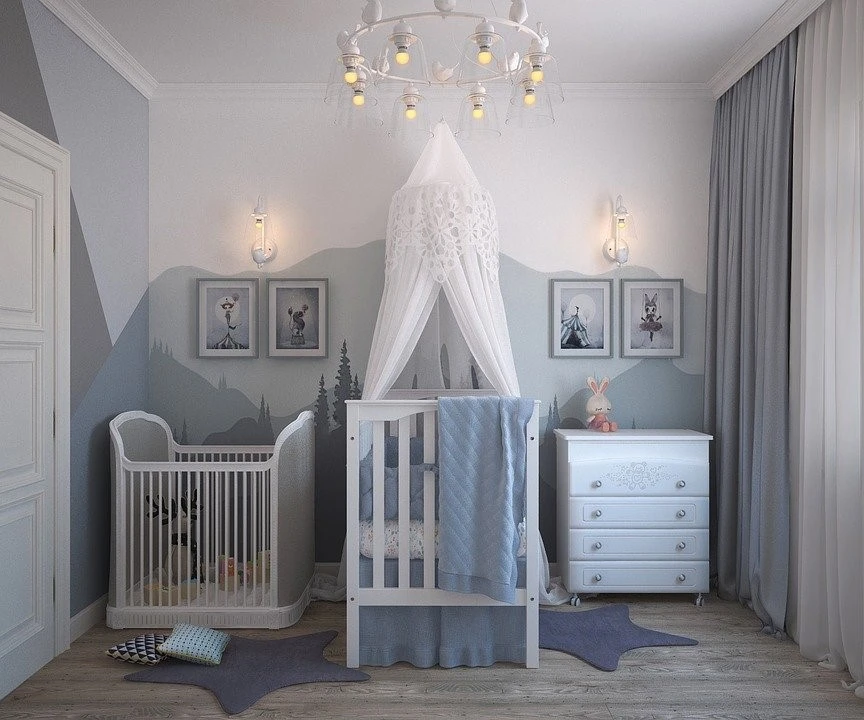 A kid's room should be bright and cheery. There is no joy comparable to the warm ray of sunshine filtering in through the curtains to brighten up one's day! A well-lit room plays an important role in spreading positivity and lifting mood.
Quite often, the natural lighting isn't enough and needs to be supplemented with additional lighting which is smart and versatile. Colour changing bulbs, ceiling lights, LED strips, night lamps are inexpensive ways of adding extra lighting to the kid's room.
The amount and type of lighting also depend on the child's age.
The lighting requirement in a nursery would vary from a teen's room. In a nursery, you would use shaded fixtures and diffused lighting in a bid to protect the child's developing eyes from harsh lights. While for a teenager's room, the lighting would be more appropriate to their usage and activities. In the study area, there would be bright lights like table lamps, desk lamps etc, or fancy hanging lights like a wall décor.
Merging the lighting with the theme accentuates the overall effect.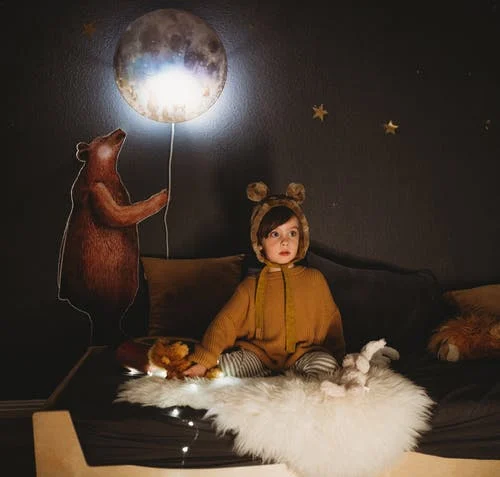 Bright cushions, colourful pillows, and soft toys can be effectively used to brighten up a kid's room. The varied colours and textures lend a personalized touch.
Bringing the garden into the child's room is another wonderful idea that breathes fresh life into the space. Indoor plants are an easy and effective way of purifying the air, absorbing harmful particles and bringing nature inside the four walls. Snake plants and spider plants can be safely kept in kid's rooms as these are low maintenance, non-toxic and safe.
Adding a 3D décor, geometrical patterns, or sparkles are other simple yet effective ways of beautifying a kid's room.
We hope these little tips would help you in planning your kid's room to their satisfaction and enjoyment. In case you need any assistance, we are always here to help you!