Colour plays an important role in the aesthetics, physical well-being and psyche. Colours can be dominating, bold or neutral. They can energize, excite, heal or agitate. They stimulate emotions and play with moods. Different colours have different effects on the psychological make-up.
Thus, it is important to choose the right colour in every room of the house, and more so while decorating your kid's room.
Considering the child's personality, tastes and likes would help you in deciding on the colours. If it is an infant's room, the parents can decide the overall look and feel of the room. But in the case of older kids, it is best to involve them in the process so that the décor is truly a reflection of their tastes and incorporates their needs in the best possible manner.
Wallpaper or paints are the best available options for colouring the walls. Depending on the child's age, requirements and budget, you can go ahead with the one which works best for you.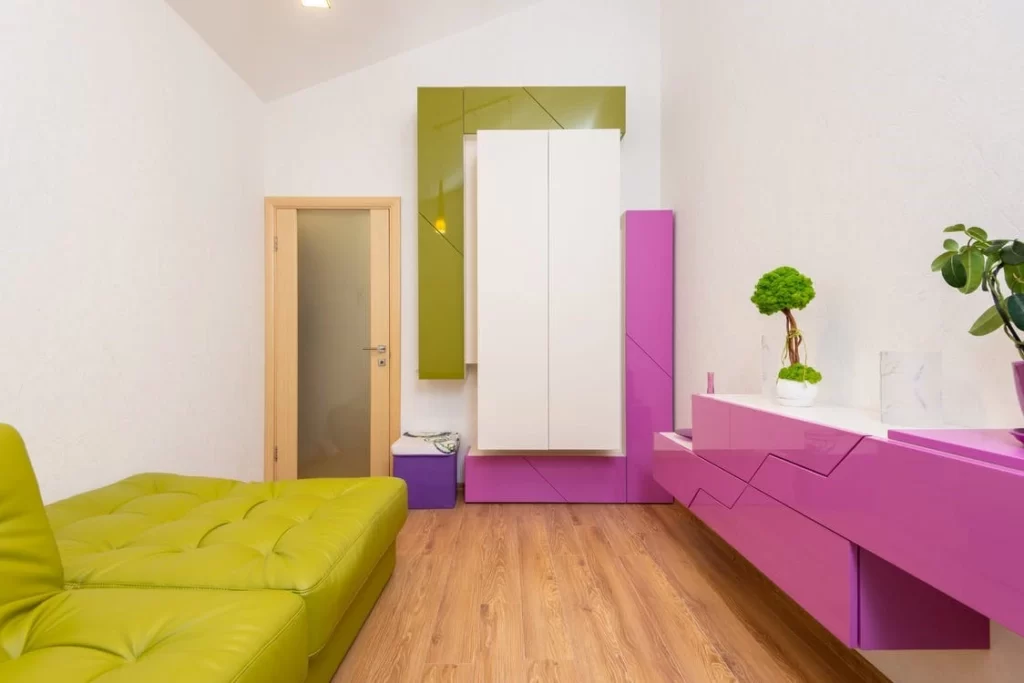 Wall paints are easier on maintenance and there are various colours, textures and design options available. Apart from the colour, you should also check the paint if the paint is toxin-free, as children are sensitive to strong odours. Stain-repellent and washable paints are ideal add-ons that would go a long way in maintaining the walls.
It is also important to remember that colours work according to the location. Some colours would be perfect for the wall, but a misfit for the bedsheets. The colours of cabinets, cushions, rugs are equally important in setting the overall mood of the room.
And lastly, always remember, kids will outgrow the colour sooner than ever! And that makes the task of choosing the wall colour even more daunting.
Here we list a few ideas which would help you pick the perfect colour for your little one's room.
For a new-born or a toddler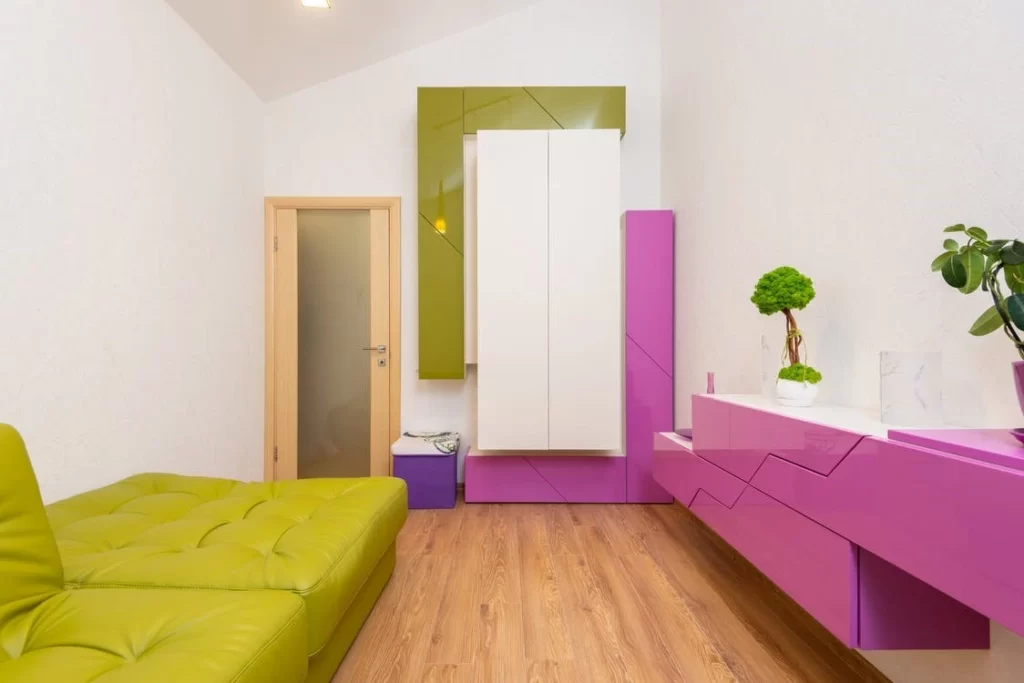 Softer colours work best in a nursery. The child is still at a stage where they are developing their vision. Bright lights and gaudy colours would disrupt the child's senses. The chosen colour should promote sleep, alleviate anxiety and help soothe and relax the mind and body.
Many parents these days wish to do away with gendered colours – pink for girls, blue for boys is passe!
Blue, purple, green, pink and earthy tones work well in a nursery set-up.
Blue is a calming colour and comes in various hues such as aqua, powder blue, or shades of turquoise.
Paler shades of purple such as lilac or lavender are gender-neutral and help create a relaxing atmosphere. They make the room light and airy. However, it would help you to keep in mind that on application, purple tends to appear darker, and can make the room gloomier. Thus, chose only lighter shades.
Pastel pink, peach, dusty rose are good colour choices for a nursery. They are comforting colours and help create a calm atmosphere.
Light to medium greens and earthy tones such as beige or brown are calming and help bring colours of nature inside the house. They also help in reducing anxiety and increasing concentration.
Lighter shades always work better in a nursery or a toddler's room.
Along with the walls, even the furniture and drapes should be in lighter hues.
Younger kids
Children in the pre-school to middle-school years are bubbling with energy and enthusiasm. And their room should mirror their developing personality. A kid's room offers plenty of scope to play with colours, patterns, and textures.
Depending on your child's personality, you can go for a soft finish or bold look.
A dash of bright red can create warm tones. Splashes of orange work well for both girls' and boys' rooms. Yellow brings in a lot of brightness, cheer and positivity.
Blues, greens and neutral shades like black, brown and white can be used to complement the colours. A combination of bright, bold colours with neutrals would help create various interesting dimensions to the space. You can either opt for multiple colours or various hues of the same colour.
Playing with stripes, geometrical patterns, motifs or murals can help in lightening up the children's bedroom and create a unique touch.
Pre-teens and Teens
If your child is in their pre-teens or teens, this is the perfect opportunity to re-decorate their room. These are the last few years of their childhood before adulthood comes knocking! And it is best to fully utilize their growing years to create long-lasting memories. Children in this age group are aware of their likes and dislikes. The room becomes an extension of their personality.
Teens are also fond of decorating their rooms according to their favourite band or sports club. If your child is fond of creative arts, then stencil art, sketching, or mandala art on walls can add a personalized touch to the room. Their liking would help in finalizing the theme and related décor.
Before embarking on the redecoration project, it would be helpful to sit with them and understand their ideas of colour and décor. The colours chosen should give them a sense of happiness and belonging. It would be important to make them understand that redecoration/painting is not an everyday affair and they would be living with their choices for a long time.
There are plenty of designs available on Pinterest which they can refer to before making their decision.
Children these days do not follow the traditional dictums of colours and are more open to exploring newer colours like eclectic lime, muted teals, aqua, coral, mint green etc.
Bold colours with neutral accents work well in teens' rooms. Blue, green, pink, lavender, brown and black are the colour most often preferred by teenagers.
Eucalyptus green is the trending colour for boys' rooms for 2022, while purple and navy are trending for girls' rooms.
Choosing a room colour is both an art and a science. Regardless of whichever colour you or your child chooses for the room, the end goal should be to bring warmth, cheer and happiness.