Telecommuting, also known as working from home has become more popular than ever. Many professionals and even business owners have ditched the strict environs of an office setting for the comforts of their own homes.
An effective and safe workplace works well in the long run and has an effect on both focus and productivity. Apart from being high on functionality, it should also work well with the overall theme of your home.
Are you also planning to set up a home office that is comfortable and helps you stay focussed and productive?
In this blog post, we share a few tips on how to set up a home office that is stylish and practical-
Image – Pixabay
It is extremely vital to mark a separate area for your workplace. The idea behind demarcation is to have your own dedicated space away from the rest of the house.
Any spare room can be converted to be used as a home office.
But, if you don't have a dedicated space from which you can work, then you can improvise the available space to make it work as a dual-purpose space. A guest room, corner of the kitchen, attics, alcoves, or even the space under the stairs can be refurbished to be used as a home office, provided you take care of the basics.
Ergonomics Take Care Of You
Image – Huseyn Kamaladdin/ Pexels
You will be spending a lot of time in your home office; thus, it becomes important to pay attention to the ergonomics. Poor ergonomics would affect your posture, lead to health issues, and poor performance at work.
A desk at a suitable height, a comfortable chair, and a sturdy table are the basics defining a good home office. All these play a role in reducing fatigue and increasing productivity.
You can learn more about ergonomics and how to implement them by reading these articles on our blog.
Image – Pixabay
No home office is complete without an internet connection, since almost all of the work happens online. It is a wise decision to take an optic fibre broadband connection. Both speed and bandwidth are factors requiring due consideration. Also, you should go ahead with an operator who provides uninterrupted service, has good customer support, and has pricing plans that suit your budget and needs.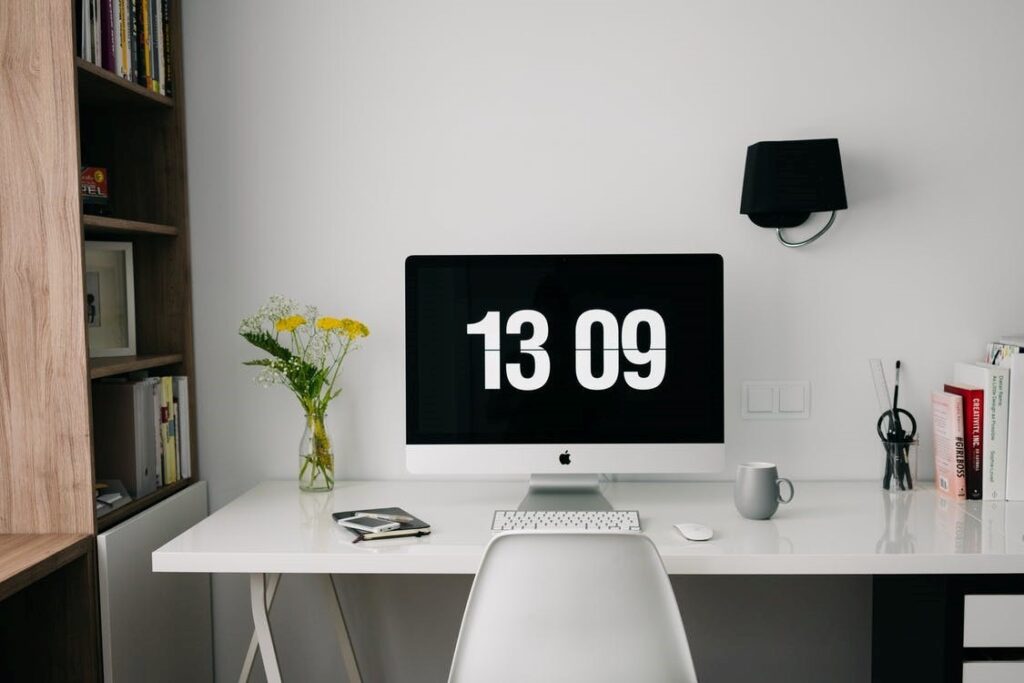 Image – Pixabay
A clutter-free room and desk reflect well on the user's nature and persona. It highlights one's professionalism and commitment to work, and at the same time helps avoid distraction.
An easy way to achieve this is to avoid having too many decorative objects on your desk. A few classy pieces, stationery items, and most often used items can be placed on the desk. Unwanted items should be stored away from view.
Potted plants, both natural and artificial can be used to add colour and enhance the aesthetic appeal of the room.
Image – Karl Solano/ Pexels
Investing in a good and spacious storage cupboard, exclusively for your home office is a smart decision. By keeping your office essentials in a dedicated space, you will not be encroaching on your personal living space. Also, if everything is neatly organized and stored, you will not waste time searching for them.
You should explore all vertical and horizontal storage options.
Boxes, files, jars, floating shelves, and tall bookshelves that extend to the ceiling will take care of your office storage needs.
Image – Elle Hughes/ Pexels
Light, bright shades on walls make the room appear larger. White or lighter colour walls evoke a sense of calm and work well for displaying pictures or photographs.
If white is not your preferred colour, you can use wallpapers or paint to introduce patterns and create clear zones.
Playing with the perception of depth will create an illusion of space and you will not feel claustrophobic.
Image – Medhat Ayad/ Pexels
Ugly wires not only make the office look messy; they also increase the risk of accidents. Cords running across the floor are an accident waiting to happen.
If possible, set up your computer, printer, router, and other pieces of equipment closer to the outlets.
If that is not a possibility, then you have no other option but to find a way to take care of the wires running around. There are many options available to tame the cords. You can tie them together with wire clips, cord winders, or a wire organizer to have a cleaner look.
Image – Andrea Piacquadio/ Pexels
Proper lighting makes the home office more functional and appealing. If the room has poor lighting, it would put excess strain on your eyes, and even cause headaches. Placing the desk next to a window is the best option as it provides natural lighting and an outside view. But if access to natural light is unavailable, then one can easily resort to artificial lights.
Overhead lighting or bright light from windows falling on the screen would increase glare. It is important to pay attention to both ambient and task lighting.
Small lamps can be placed on the desk for task lighting.
Setting up a home office is not a daunting task. We hope these tips would give you an idea of how to go about it.
In case you are looking for personalized design ideas, feel free to connect with us.