Every aspect of your home adds to its charm, be it the theme, colours, furnishing, décor, or flooring.
It is important to pay attention to details while choosing the flooring, for it not only adds style, but also plays an important role in keeping the floor safe, and comfortable.
In this blog post, we tell you all there's to know about flooring.
Why flooring?
There are immense benefits flooring offers.
Style
Flooring adds a personal touch to the living space. Apart from adding charm, it also plays an important role in creating boundaries and defining space.
Floorings help a lot in reducing noise and vibration, providing a comfortable surface to move on.
Flooring increases stability thereby preventing accidents caused by sudden shifting or wobbling of furniture. They also help reduce the incidents of slips and falls. These inadvertent slips can be uncomfortable and potentially dangerous too.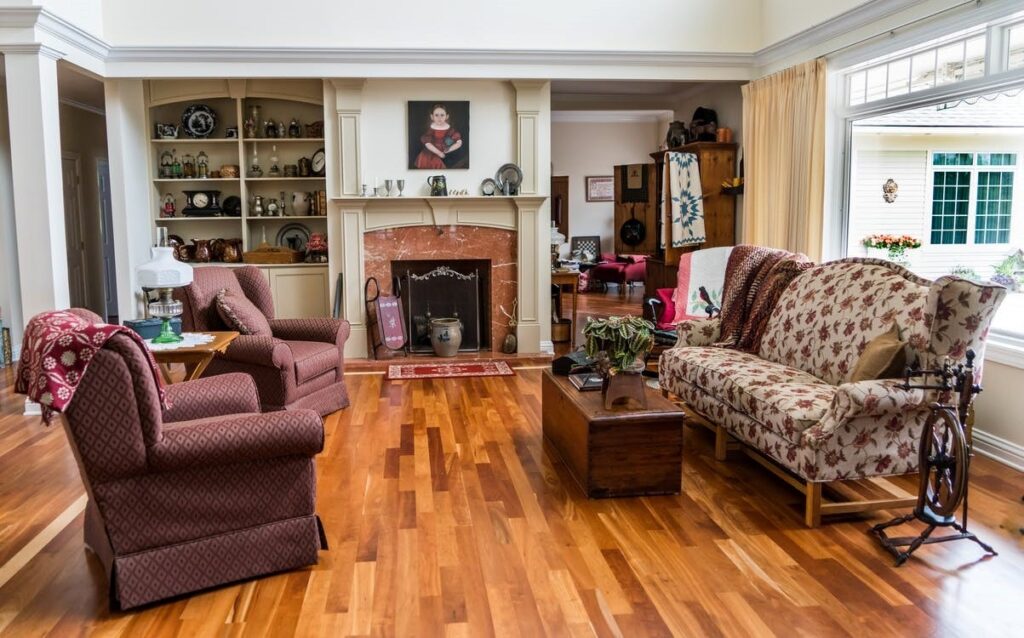 Image – Pixabay
There's a wide variety of flooring options available for customers to choose from, but before you zero on one, there are a few basics to consider-
Keep in mind the climatic conditions
The temperature and moisture content in the air, i.e., the humidity play an important role. Tiles and carpets are a great flooring option for most climates, whereas hardwood floors are unsuitable under extreme climatic conditions.
Your budget remains one of the most important factors affecting your choice. The pricing varies depending on the type of flooring you opt for. There are materials from a low range to the high-end of the pricing band.
Measure, measure, measure
It is extremely vital to have the perfect room measurements before selecting flooring. The wrong sized material is sure to cause problems during installation.
The choice of flooring material depends on your desired look and feel. Whether you wish to go for a casual look or a more formal one, the flooring is integral to it.
Apart from the climate, there are also personal considerations that need to be factored in. e.g., if there are senior citizens in the home, it is advisable to opt for skid-free flooring. Carpets should be avoided in case the residents have some kind of allergies. The choice of tiling varies depending on where you are installing it.
Types of Flooring
Flooring comes in many varieties with variations in materials, textures, and colours. Here are a few most commonly used flooring materials-
Laminate – A multi-layer composite floor covering consisting of a particleboard wood base, a photographic applique layer, and a clear protective layer. Laminates work well in high-traffic areas, and homes with pets and children.
Image – Max Vakhtbovych
It is one of the most commonly used floorings because of the following benefits –
Durability – They can stand wear and tear as they are made of synthetic materials under high heat and pressure.
Pricing – Laminates are affordable and have good value for money. They are less expensive than wood.
Maintenance – They are low on maintenance. They are stain-resistant and can be easily cleaned with a damp mop.
Varied options – Laminates are available in many styles, finishes, durability ratings, etc.
Ease of installation – They can be easily installed, and work well on most subfloors – pre-existing floor, concrete, etc.
Safe to use – Laminated flooring is a good choice for people who are sensitive to allergens. They do not trap dust, pollen, etc, and are moisture-proof thus helping avoid moulds.
However, they can't be refinished, and are also affected by moisture.
Carpet – One of the most popular flooring choices, carpets provide warmth, comfort, and softness. They are available in various styles, materials, colours, and textures. Moisture-free areas can be carpeted.
Image – Pixabay
Here are a few benefits of using carpets
They help reduce noise by acting as sound insulators.
Help reduce the impact of falls. Also, since they have high friction co-efficient, they lessen the chances of accidental slips and falls. Thus, making it absolutely safe for homes with children and the elderly.
Apart from the aesthetic appeal, carpets also act as thermal insulators and are especially helpful in colder climates.
Easy on the wallet – carpets are a price-wise option for refurbishing homes on a tighter budget.
Breathe Free- They absorb dust and airborne contaminants, thus improving indoor air quality. Also, the dust is not as visible as it would be on hard flooring.
But they also come with a few disadvantages-
They stain easily, and it's difficult to dry if they become wet.
Carpets are not a good choice for a home with people prone to allergies.
They don't last long, and at the same time recycling carpets is a difficult job.
Tiles – One of the most common and durable types of flooring. They come in various varieties like porcelain, ceramic, etc. They are well suited to most of the areas.
Image – Pixabay
These are a few advantages of using tile flooring
Maintenance – They are easy to maintain, as they do not absorb any stains, dirt, or liquids. Mopping, brooming, or vacuuming are enough to clean them.
Long-lasting – tiles are quite durable as they are tough and thus hard to crack.
Affordable – tiles are cheaper and add value to the property in the long run.
However, they are not free from any disadvantages, either.
Non-absorbent – since they do not absorb heat, tile flooring becomes cold in colder climates and would be uncomfortable for people to walk on their bare feet.
Low on comfort – Tile flooring is slippery and hard, thereby increasing the chances of accidents.
Hard Wood – One of the oldest and most traditional flooring styles, Hardwood floors find a universal appeal because of their classic and timeless beauty. They can be used well in areas that are free from humidity.
Image-Pixabay
There are many advantages to using a hardwood floor
Appeal – hardwood floors are a delight to the eyes.
Long-lasting – they are extremely durable, and if maintained well, they would stand the test of time.
Value – homebuyers tend to see hardwood flooring as an asset, and it is generally believed that it adds to the value of the property.
Variety- hardwood flooring does not mean covering the floor with plain planks! There is no dearth of options. You can choose from a wide variety of colours, styles, and even species.
Maintenance- they don't trap dust or mites, and thus are easy to clean and maintain.
However, despite these advantages, hardwood flooring would not be the best option for all. Here are a few cons you must be aware of.
Moisture is the enemy – hardwood floors expand and contract in response to humidity. Hence, they are to be avoided in areas with high moisture levels, like bathrooms, kitchens, etc.
Cumbersome installation process- Installing hardwood floors is a difficult and time-consuming process that needs the attention of professionals. They cannot be fixed over bare concrete slabs as they are stapled or nailed to a subfloor.
Cold and Hard – Hardwood floors are not as comfortable as carpets.
Pricing – Hardwoods are expensive not only due to material. They also have a high installation cost and long-term maintenance cost.
Flooring is a big decision and requires careful consideration. We hope this article would help you make an informed decision.