Stunning Staircase Design & Re-Decorating Ideas
A staircase is a prominent feature and attracts attention as soon as one enters your home. It is a key design element that can elevate the utility aspect tremendously. But, instead of just acting as a connection between two levels, or dividing spaces, it can also add immense value to the aesthetic appeal. In fact, it's an opportunity to infuse design and style into your home.
2023 Staircase Design Trends 
Natural materials and Sustainability
A staircase with metal finishes is trending this season. Metal is more durable than wood, glass, or timber. Aluminium, stainless steel, wrought iron, galvanised iron are a few of the most popularly used metals.
Metal finishes add a slick and modern look to your home. They are also long-lasting and durable.
Timber Staircase
Staircases made of timber boards are quite popular in 2023. It's a highly durable material and can be adapted to suit your design requirements.
But, if it is not properly maintained, it can bend or crack.
Floating or Helical Staircase
People are loving the concept of Floating staircases. It is contemporary and chic.
They can be easily customised depending on the design you wish to create. Pricing remains the biggest drawback. A floating staircase will cost much more than a regular staircase.
The helical staircase, another trending style, has a shape that resembles the DNA structure. It has a luxurious and magnificent appeal to it. They are also quite expensive.
Glass Staircase
A glass staircase is unique and contemporary in appeal. It lends a modern touch to your home. But it is not advisable in homes with small children or senior adults. It is slippery and can be easily damaged if heavy objects fall on it.
If you plan to have a staircase in your home, it should be part of the design process from the initial stages. There are many factors that should be considered while designing it. E.g., the overall design theme and layout, the number of people using the stairs, the approach to the stairs, etc.
In case you are not satisfied with your current staircase and replacement is not a feasible option, you can enliven it by redecorating it. In this article, we share a few ideas that would help you in redecorating the staircase and adding a personal touch to it.
The space under the staircase is often ignored and left as is. Instead of leaving the landing space empty, you can utilise it better.
Why have plants only in the living room or bedroom? Ever the staircase can benefit from the greenery. By placing indoor plants underneath the steps, you will be able to enjoy nature's beauty indoors. Easy-to-maintain plants such as the snake plant, ZZ plant, miniature succulents, etc would be good choices.
Apart from using the landing space, you can even use the steps for placing potted plants. Open shelves or individual planters are a few of the options. If you want to learn more about the best indoor plants, click here.
Safety tip: Spilled water can lead to accidents. Always ensure to wipe the area clean and dry after watering the plants.
Depending on the availability of space, the landing area can be transformed to increase utility and aesthetic appeal.
There are plenty of ways in which you can utilise this area. You can either increase storage by adding shelves. Or, you can use create a cozy nook in this space. All you need is a small bench, throw in a few cushions, and your cozy co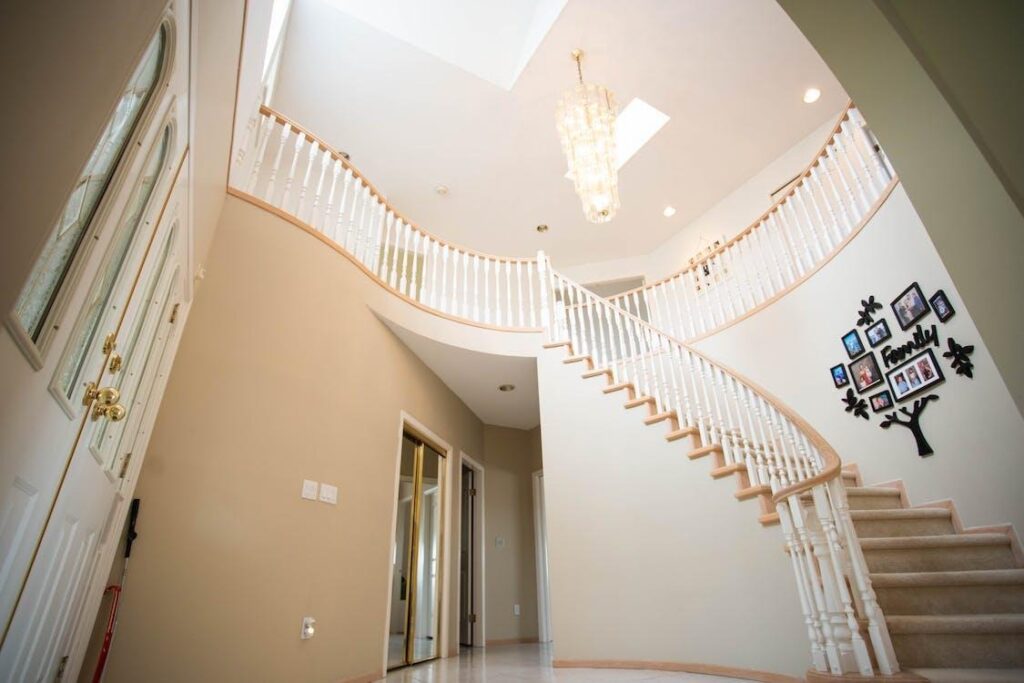 There is tremendous scope for creativity when it comes to the walls along the stairs.
It's the perfect canvas for you to express yourself. You can use this area as a gallery and exhibit your paintings. Framed family photographs or even artwork made by you or your kids can be proudly displayed here. Depending on your taste, you can either have a large photograph or a collage of photographs covering the entire wall.
The length of the wall space running along the stairs can be personalised. By creating customised designs, the area would reflect your personal style and preferences.
If you love travelling and are fond of collecting artifacts, this wall space can be the area for you to display your collection. Long-forgotten travel treasures, hats, and plates can occupy a place of pride in this area.
You can be the curator of your personal art gallery!
As is with every corner of your home, lighting plays an important role in the staircase area too.
While bright light is required for utility purposes. You can use ambient lighting to enhance the aesthetics of the staircase. Depending on the kind of handrail and steps, you can either have the light running along the handrails or under the steps. Both work in their own unique manner.
You can also use sconces along the wall. The diffused lighting adds an element of mystique.
Rugs or stair runners can be used to add pattern and interest to the steps. Bare steps sometimes appear cold. Rugs add warmth to the place and make them more welcoming. Your guests will feel right at home with the soft cozy welcome.
The colour, design, and material of the runner depend on the overall theme of the home. The choice of the material should be a reflection of your individual taste and the statement you wish to convey.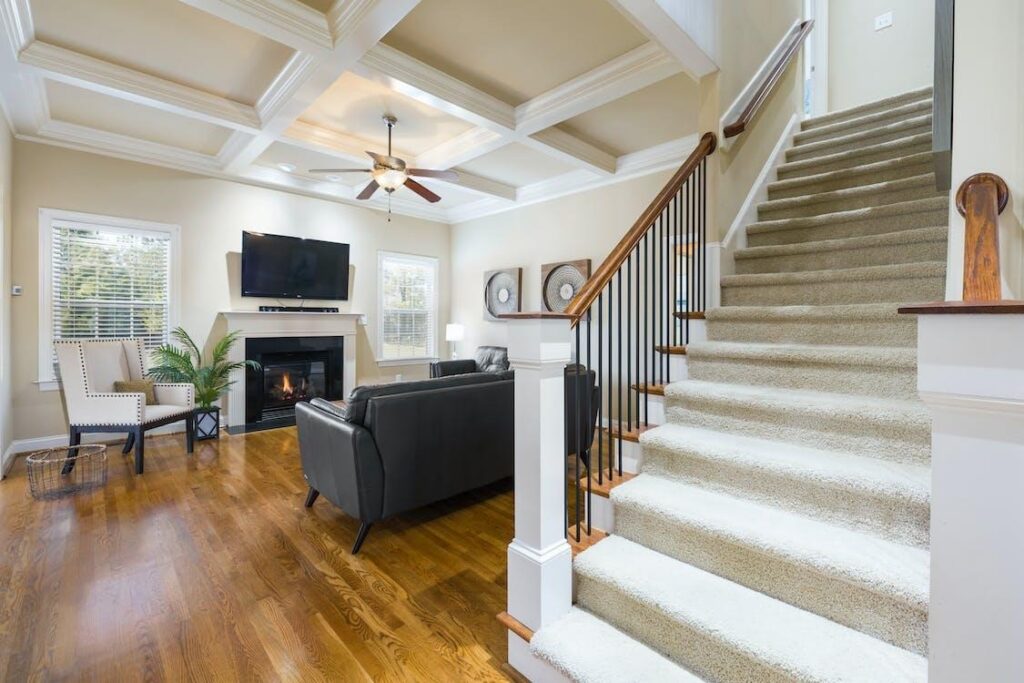 Lighter tones are subtle in appearance and create an illusion of space. These work well in a modern home. 
Bold patterns, dark colours, or vintage designs lend a different kind of appeal. They are luxurious and create an enigmatic charm.
However, carpets or rugs absorb dust particles. Hence, they should be cleaned on a regular basis. Maintenance requires both time and effort.
When there is so much colour in your home, why should the staircase be resigned to a monochromatic existence? 
Add a dash of colour to the stairs and witness the magic unfold! There are various ways of adding colour to this zone. Colourful handrails, a mix-n-match of bold colours on the steps, underneath them, or in the adjoining wall space are a few of them.
Not just pain, even wallpapers can also be used to cover this wall space. The wall space can either contrast the steps, or you can have a uniform theme running all along.
Abstract patterns, colourful motifs, and even mandala designs can be used to highlight the staircase.
Let us know in the comments if you found this article useful. We love hearing from you.