Pillar Decoration Ideas
Pillars or columns provide structural support and architectural stability. Often, architects hide these columns in the wall, but sometimes, you might end up with a column in the middle of your room. It can seem like an eyesore. But, with a little bit of imagination and the proper resources, the pillars can add to the aesthetic appeal and make your home even more beautiful.
Pillars add height to the room and create visual interest. You can leave the pillars bare or accessorize them with plants, lights, paint, etc to make them more appealing.
A column is not just for adding strength to the structure, it can be used to serve varied purposes, such as decoration, creating partitions between areas, or even showcasing collectables.
There are various materials available for the interior columns and you can choose the one best suited to the theme and overall design.
Here we list a few inspiring ways to design the pillars
Tiles
Tiles can be used to create delightfully varied textures, and enhance the beauty of the room. Interior columns can be covered with tiles, marble, solid stone, mosaic, faux brick, wood tiles, etc.
Marble and stone tiles are perfect for warmer climates as the cold touch would be soothing and desirable.
White smooth tiles are a timeless classic, and one can never go wrong with white tiles. They add brightness and create an illusion of open space. If you prefer minimalist decor, you can look at round pillars in plain white marble or cement.
Sold stone pillar tiles lend an urban modern look. It works well in urban interiors by creating an interesting appeal and can become the focal point of the living room.
If you are looking to add colour and vibrancy, then mosaic pillar tiles are your best. These intricate patterns and varied colours instantly bring life to every space.
Marble stone pillars bring grandeur to your living space, but they work well in large open rooms.
Wood Columns
Wood is a versatile material and is widely used in both interior and exterior decoration. It is structurally strong and functional and practical in terms of use. Wood is used as flooring, on walls, for making furniture, etc.
Interior columns can also be made using wood for creating an interesting experience. The raw material would play an important part in the outcome.
A smooth finished wood finish works well in a modern space.
Raw wood brings warmth and coziness to the interiors. The pillar is seamlessly blending into the dining area as the wooden furniture complements it.
Wooden tiled pillars are apt for colder places and should be avoided in areas with high humidity as moisture impacts the texture, quality, and longevity of wood.
There are a lot of ways to cover your column with wood. The entire column can be made with wood if your budget permits it. Else, you can use laminate or particle board to cover the column.
Cemented pillars
Apart from construction, cement can also be used for enhancing aesthetics. A cement pillar is not just structurally strong, it is also well-suited to most climatic conditions.
You can leave the pillar bare as it is if you prefer a rugged and rustic look. Or you can get simple carvings on engravings on it for an enhanced and elegant look.
Suspended ropes on the cement columns create an interesting aura.
Light 'em up
Who says a column needs to be drab and boring? By decorating the pillar with wall lights, you can add a dash of elegance and create interest. The ambient lighting adds life to even a bare column.
Play with Colours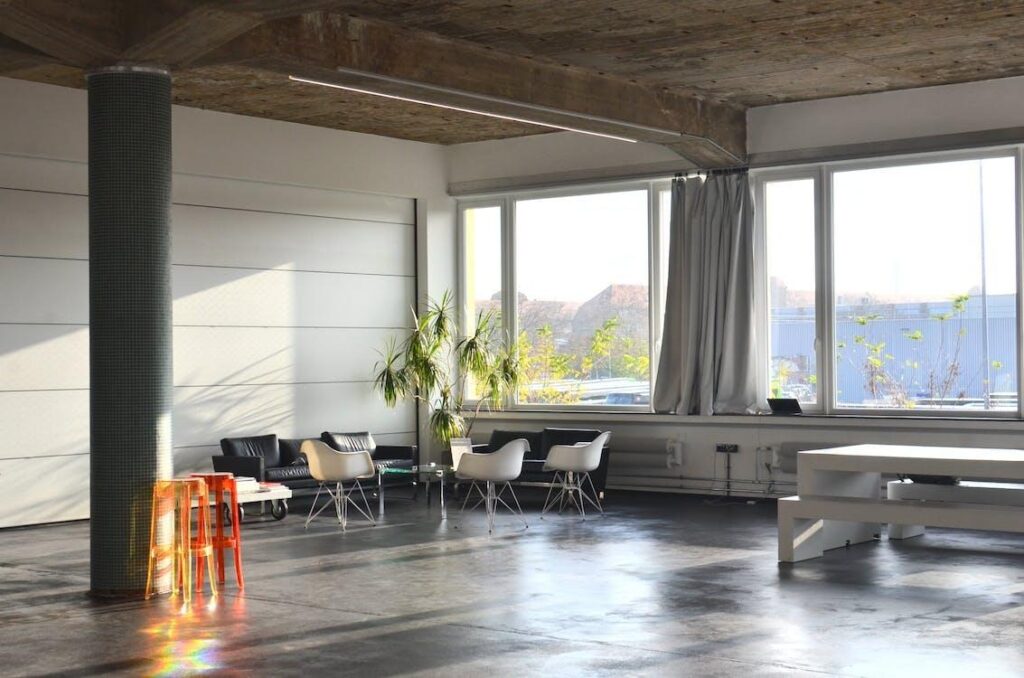 Wall paint and colours can go a long way in highlighting the column and making it appealing. Bold contrasting colours would add drama to your living room, making the pillar a focal point, rather than trying to hide it.
Bright colours would make the room vibrant. And in case you are looking for a more elegant appeal, darker colours would do the job perfectly.
Painting the pillar in a two-tone style makes it more interesting than a monochromatic one. The two colours can be of the same tone but different shades, or even two different colours. There are no strict rules when it comes to colour selection, and you should go with the one best suited to the rest of the room and the effect you desire.
Reflective surface
A glossy metallic finish, like mirrors, can be applied to the columns for getting a reflective surface. The metallic surface makes the room appear bigger by creating an illusion of more free space.
Not just Utilitarian Value
Pillars can be used to provide extra storage in an aesthetic manner. With a little bit of imagination, the pillar can be repurposed to act as bookshelves, showcases, room dividers or even a bar. You can use it to flaunt your books, artefacts, memorabilia, or awards. The column is your stage!
You can also columns to bring in a touch of greenery inside. The plain column can become a green centrepiece if you can hang artificial vines on it, or if you have a green thumb, you can even use it as a support for natural indoor plants, like money plants.
Apart from adding a hint of colour, natural plants purify your indoor air and make your home fresh.
Pillar design is an extension of the existing living space and should subtly blend with it and complement it. The pillar, like the rest of your home, is a reflection of your taste and style.