Lighting Ideas for Narrow Hallways
Hallways often get less attention than they should get be getting. They are dark, and narrow since they lack natural light. With proper lighting, you can spruce up the space and uplift the mood and feel. You can make the space look bigger and more inviting.
Ignoring hallway lighting is a mistake as it is the first thing your guests notice when they enter your home. A nicely decorated hallway is an opportunity to create a warm and welcoming first impression. Not just your guests, but even you will feel happy when entering an eye-catching foyer.
Lighting in the hallway should be both functional and stylish.
Combining a range of light sources, and mirrors, and letting in natural light can help create a warm and inviting hallway.
The HOWs of Selecting the Right Kind of Lighting
There are many kinds of options available for lighting the hallway. How would you know which is the best one?
Well, the answer is simple.
It depends on you, and your style statement.
Pick a piece that you wouldn't get bored of soon. You will be going in and out of the hallway day in and day out. Select lighting fixtures that speak to you.
The length and height of the hallway would impact the size, type, and number of fixtures.
Ideally, there should be a minimum clearance of seven feet between the floor and the bottom of the fixture. The height of the door should also be taken into consideration when deciding the size of the fixtures. You wouldn't want the door to hit against any hanging lights.
If the hallway has a low ceiling, a series of multiple fixtures would be a better choice than a chandelier. Whereas, a low-hanging chandelier would work perfectly in a hallway with a high ceiling.
Let's now come to the most important aspect. The brightness.
The hallway should be well-lit, but it shouldn't be jarring to the eyes. You wouldn't want your guests squinting with discomfort caused by flashing lights. At the same time, it shouldn't be too dark either. If the brightness is not correct, it defeats the entire purpose.
A minimum intensity of 100 lux is usually recommended.
Now, that we have addressed the HOW aspects, let's look at WHAT are your options.
There is a wide variety of fixtures available in the market. Here we are listing down a few of the most popularly used ones.
LED Strip Lights
LED strip lights are affordable, easy to install, and a hassle-free way of bringing light into dark narrow hallways. They are energy efficient and long-lasting.
Wall Sconces
Sconces are a type of decorative light fixture that is mounted on the wall. They aid in adding light and creating interest without interfering with the availability of space or cluttering floor or ceiling space.
Multiple sconces placed at regular intervals along the entire wall length of the hallway help in illuminating the entire passage.
Scones are available in varied designs – elegant, subtle, bold, rustic, or modern. You can choose the one that is best suitable to your purpose, theme, and design of your home.
Pendant Lights
Pendant lights are a wonderful choice for lighting narrow hallways. A hanging pendant light brightens the hallway in an aesthetically pleasing manner.
You can either have a single pendant light or more, depending on the length of the corridor.
Oversized pendant lights are a sure-shot way of creating an everlasting impression. They add drama without compromising on space.
Pendant lighting works best in hallways with tall ceilings.
Chandeliers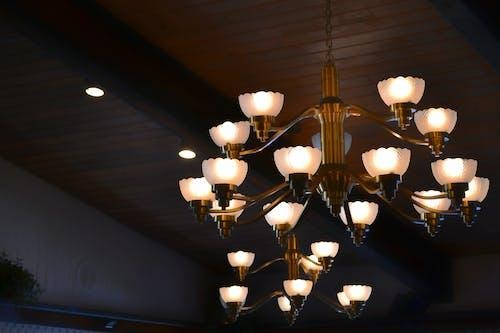 You are sure to create an unforgettable impression by hanging chandeliers in your hallway. They add luxury and ambiance in a charismatic manner. They work best in hallways with high ceilings. The number, type, and intensity of the light bulbs play an important role. Dull, recessed lighting works well in hallways.
Depending on the theme of your home, you can choose period pieces, glamorous chandeliers, or modern ones. Irrespective of the kind of chandelier you pick up, remember it should reflect your taste and personality.
A few additional tips
In the case of a long, narrow highway, placing multiple light fixtures helps in lighting up the entire passage.
Warm light is more welcoming than cool light.
Flush fittings should be selected in case of hallways with low-ceiling
A mix of task lighting and ambient lighting takes care of looks and functionality.
Wall lights with lighting directed towards the ceiling creates an illusion of a high ceiling.
You can try coordinating the lighting with your décor, window frames, wall colour, etc for a more impressive look.
Layered lighting (mixing sconces with overhead lighting) helps in illuminating the entire hallway.
Talk to us if you are looking for ideas to glow up your narrow hallway. Our team of talented designers is just one phone call away!